---
It looks like I'm free from the shackles of which that is awaiting activation. Anyway, I'm finally here!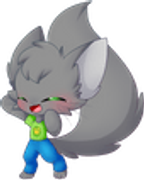 (art by Miyuchii_chan on bird site)
I'll take this time to make an intro post. I'm EmeraldX, but you can call me Emmy. I'm a cat who is always in the realm of art and creativity making things that express myself. I mainly make music and have been making my own electronic compositions since 2018 (most of them suck, but that's a-ok!) On top of that, I have also been learning other cool things such as Blender/3D modelling, HTML/CSS, Linux, and more. This place seems pretty cool and I'm already learning a thing or two just by poking around.
Can't wait to make more detailed and fun posts that I can't do on places like bird site and clock app. Nice to meet you all!
If you would like to check out my music and other socials, do so here:
---